back to Events
Upcoming Dates:

Wednesday, October 14th, 2020

Time:

8:00 am – 10:00 am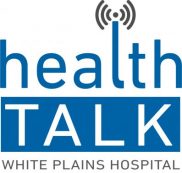 Welcome to healthTALK, White Plains Hospital's new podcast program.
In partnership with WestchesterTalkRadio, White Plains Hospital launched a new podcast programming series called healthTALK. Recorded in our satellite studio in the Hospital and at offsite events, the podcasts feature our healthcare experts discussing current trends and 'news you can use.'

Find our recent podcasts below and tune in every day to WestchesterTalkRadio at 3P to hear the White Plains Hospital healthTALK hour. 

Have an idea or interested in hearing about a particular topic? E-mail us at WPHCMail@wphospital.org.
Click on images to play the audio.